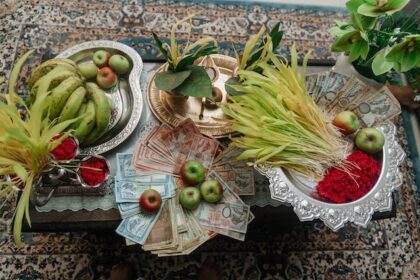 As the leaves begin to change and the cool breeze sweeps through Nepal, we know that Dashain and Tihar are just around the corner. These vibrant festivals hold a special place in our hearts and have been celebrated with immense joy and tradition for generations.
📜 Why Celebrate Our Festivals? 📜
Dashain and Tihar are more than just festivals; they are a testament to the resilience of our culture, our bonds with family, and the memories that connect us across generations. In these times of rapid change, it's vital that we preserve the traditions and stories that have made us who we are.
💡 Our Mission: Preserve and Inspire 💡
At Katha Hijo Ko, we're on a mission to capture these incredible stories, preserve our cultural history, and inspire the younger generation. We want to learn from our elders, experience their memories, and ensure that these rich traditions are passed on.
🎥 Share Your Memories 🎥
Do you have cherished memories of Dashain and Tihar celebrations from the past? We invite you to share your stories through videos. We're looking for heartfelt accounts of how these festivals used to be celebrated, what kind of food was prepared, and how families came together, even when distances seemed insurmountable. It's a chance to learn from our elders and make sure their memories live on.
🏆 Join the Dashain and Tihar Video Contest 🏆
As part of our efforts, we're hosting the Dashain and Tihar Video Contest. Capture your elders' recollections in a video, up to (unlimited) minutes, in the highest quality possible. During the video, ask questions like:
-How was Dashain celebrated in the past?
-What are the differences between then and now?
-What do they miss most from the past celebrations?
You can participate by either:
Filling out our submission form [link], where you can upload your video and any accompanying photos.
Uploading your video in high quality to Google Drive and sending us the link. (kathahijoko@gmail.com)
Directly uploading your video file through the provided form.
🌠 Win Prizes and Support 🌠
Three lucky participants will be randomly selected to receive support worth 3,000 NPR (Nepalese Rupees) each for the guests they interviewed. This support will go toward ensuring that the guest has a wonderful time during the Dashain and Tihar festivals.
🌏 Join Us in Preserving Traditions 🌏
Dashain and Tihar aren't just festivals; they're a celebration of our cultural heritage. By participating in the Dashain and Tihar Video Contest, you'll be contributing to the preservation of these cherished memories.
We can't wait to see your heartfelt videos and hear the stories that have been passed down through the years. Let's keep these traditions alive together!
a Sample
https://www.facebook.com/reel/846068373737989