For a long time, I had dreamed of exploring the beauty of Nepal, capturing its diverse moments, and embarking on a unique project called "Katha Hijo Ko." This journey took me to the eastern parts of Nepal, from the picturesque Pokhara to the bustling Kakarbhitta, all while riding my trusty scooter. My goal was to find sponsors for my project, but little did I know that this adventure would turn into an unforgettable chapter of my life.
Our team at Katha Hijo Ko initiated this incredible journey, covering a minimum of 100 kilometers daily. Our mission was to interview the people we met along the way, and this routine continued for 18 days straight.
One morning, en route to our next destination, we stumbled upon a humble hut and a man who would become an unexpected guest for our interview. He graciously agreed to share his story with us, and what followed was a life-changing experience that we had not planned for.
In our conversation with him, he recounted his past experiences, including his time as a laborer on the East to West Highway, one of the longest highways in Nepal. He also shared anecdotes about meeting the King during a program and the inauguration of the road. It's hard to believe that he used to earn just Rs. 500 per year during his laborer days. While he may not possess much now, his contentment with life is truly inspiring.
He married at a young age, around 18, and his bride was four years his junior. Despite their youth, their love story was a testament to the power of love. Their parents agreed to the union, and she remained by his side until her passing, just four months before our interview in 2020.
To discover the full depth of this remarkable man's life journey, we invite you to watch the video. Stay tuned as the full video will be coming soon.
Katha Hijo Ko has released their next episode. This time, it is Bhadra Bahadur Gurung. He says he is 72 years old, and has seen much pain in his life. Dealing with the death of his wife, and disappearance of his daughter, he tells us how heart-wrenching loneliness can be. "I miss her whenever Dashain comes around. There is no life in this house. Living alone is very hard". He seems happy to see us, and happier when we provide support to him.
Support work By Katha Hijo Ko Team
Katha Hijo Ko team donated some financial support as well as clothing and food on their recent shoot. Bhadra Bahadur Gurung, aged 72, is an energetic elderly living in Yangjakot. He lives alone, and tells us about the pain he feels living alone. Losing someone is devastating, and losing your life partner is harder.
Katha Hijo Ko team donated:
Rice
Yellow lentils
Black lentils
Dishwashing soap
Detergent
Sugar
Salt
Few items of clothing
And cash money
The amount of the fund raising for Katha Hijo Ko project goes directly to the elderly People in form of food, some clothes, and financial support. From the donations and sponsorships that are provided to us, 60% will be donated to the elderly people and 40% is allocated for our expenses like transportation, food, and equipment.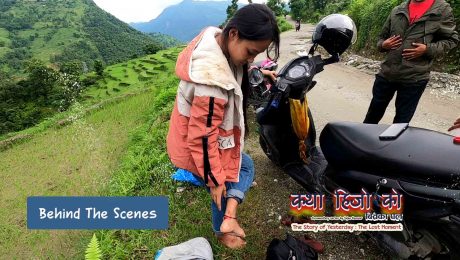 We though the Journey wold be only of 2 hours, but when we asked for recommendation, people would suggest it's impossible to be on the Location by a Scooter, a lot of rain was there when we started.
On the filed we had lots of Leech, and we couldn't capture everything but here are some clip.